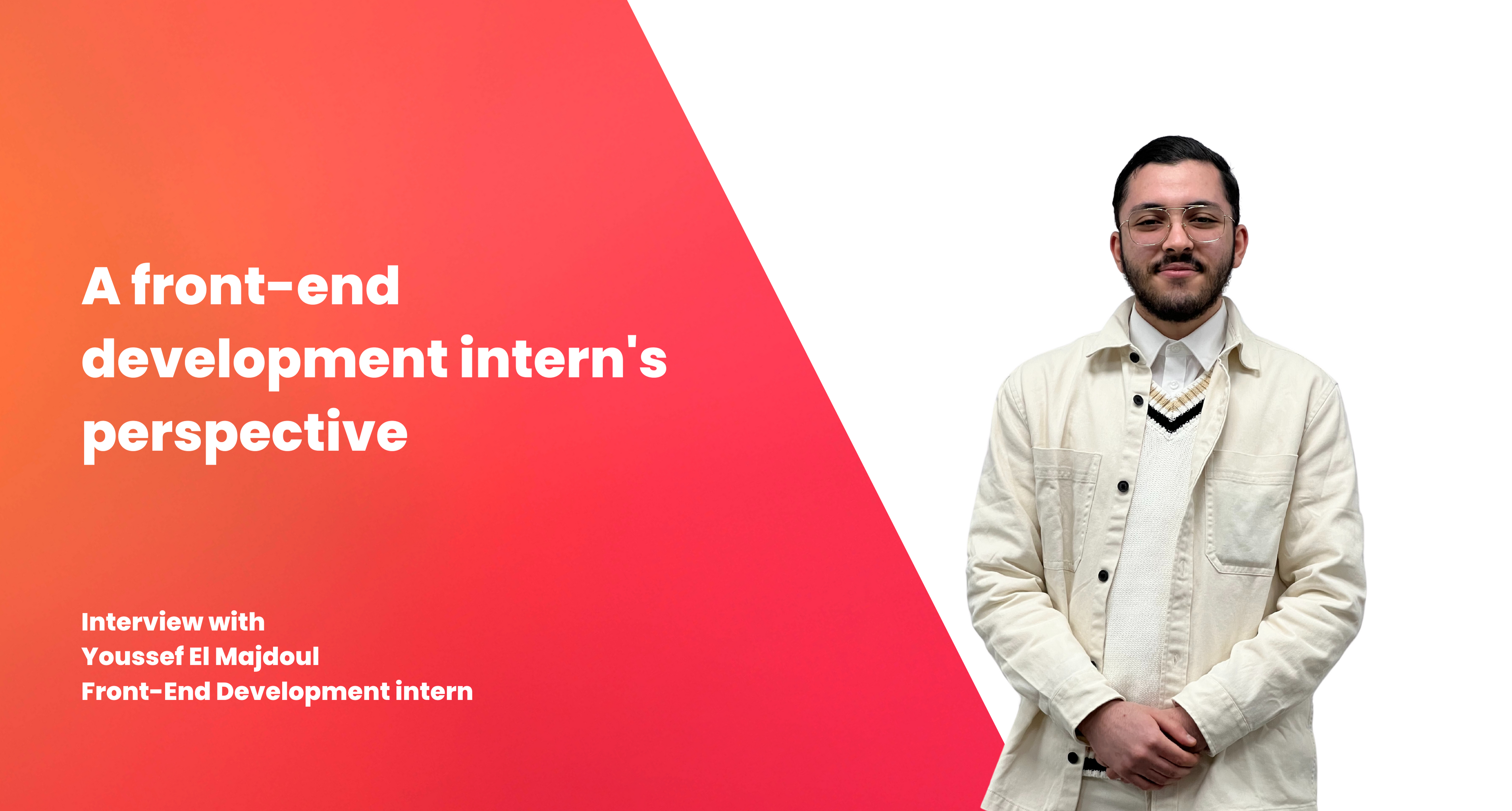 Hey there, folks! Join us as we catch up with the one & only Youssef, who recently completed his fantastic internship at Nightborn.
As you may know, Nightborn is all about embracing interns & giving them the opportunity to shine like bright stars in the sky. We love working with talented individuals like Youssef & providing them with the platform to spread their wings & soar.
So, let's take a moment to reflect on Youssef's experience at Nightborn & hear all about the journey he embarked on during his internship.
Hi Youssef! Please introduce yourself!
Sure thing! My name is Youssef El Majdoul, a 21-year-old from Brussels. I recently completed my bachelor's degree in Business Informatics from ESI. When I'm not diving into the world of technology, you can find me indulging in video games & getting lost in manga stories.
Ah, the combo technology & video games. A melody that resonates within the walls of Nightborn. So, Youssef, what was it that drew you to Nightborn?
What initially drew me to Nightborn was their captivating website design, which piqued my curiosity & captured my interest. As I further explored the company, I stumbled upon the employee showcase page, filled with beaming smiles & contagious positive energy. It left me with the impression that the work environment at Nightborn must be truly extraordinary.
And let me tell you, it absolutely was. 🙌
That's always nice to hear! Merci! This being said... What did you hope to gain from this internship, both personally & professionally?
During my internship, my main objective was to gain valuable work experience and, at the same time, learn and grow in various aspects.
I had high hopes of reaping numerous benefits from this internship, both personally & professionally:
👉 Personally, I aimed to gain a deeper understanding of the professional world and acquire new knowledge that I could continue to develop in the future.
👉 On a professional level, my goal was to apply the skills I had obtained through my studies in Business Informatics. Additionally, I was eager to learn specific skills related to Nightborn's field of expertise. I wanted to enhance my ability to collaborate effectively within a team, sharpen my problem-solving skills & improve my professional communication.
In summary, my aim was to conclude this internship with a clearer perspective of the professional landscape and a set of new knowledge that I could apply in my future career endeavors.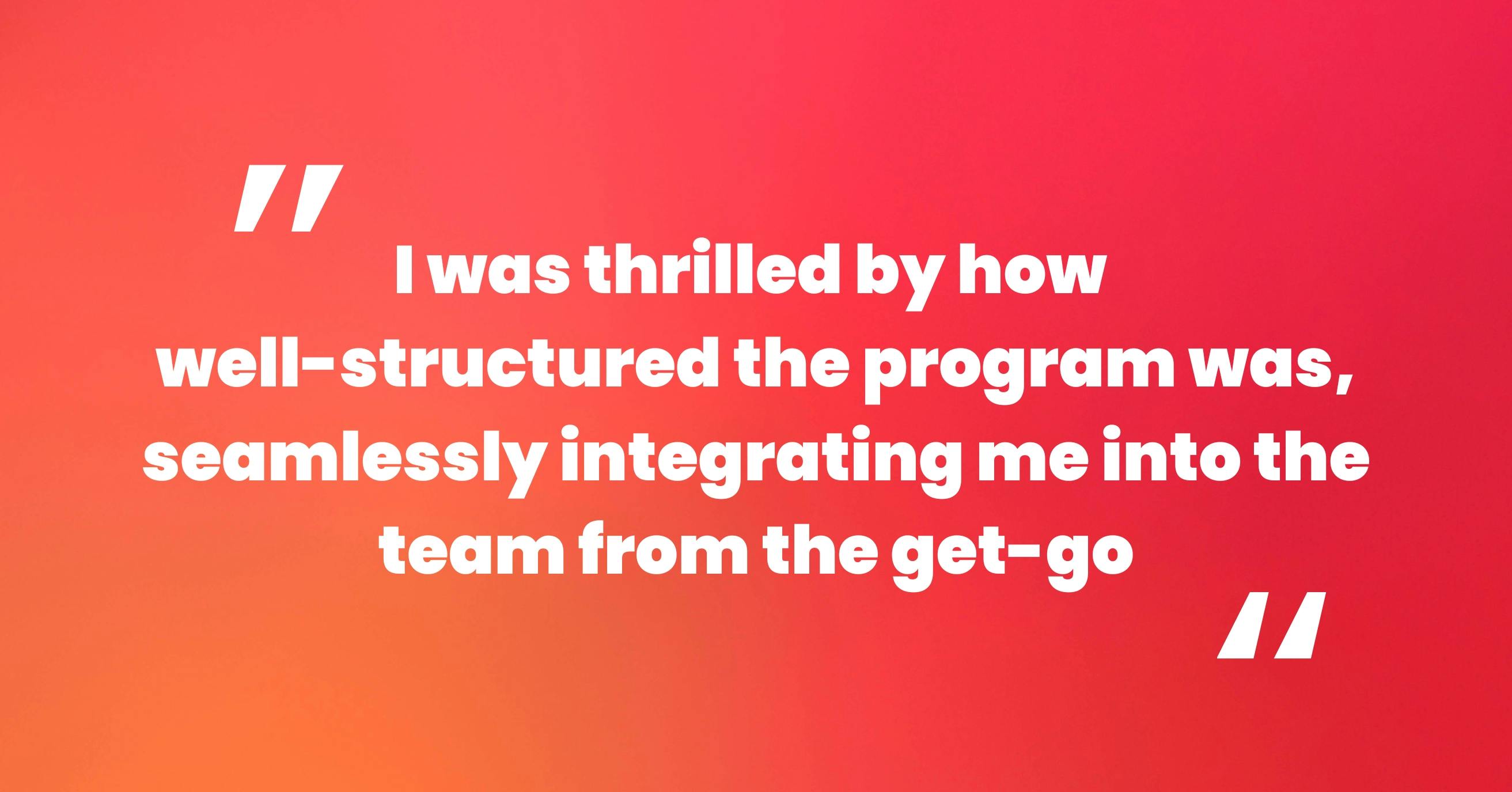 Seems like a solid plan! And did it live up to these hopes & expectations?
The internship program was an absolute blast. 🔥 The energy in the work environment was off the charts, creating a stimulating atmosphere that kept me on my toes. Throughout the internship, I not only sharpened my communication skills, fearlessly engaging with my coworkers but also gained some wicked tech skills that will undoubtedly be valuable in my future endeavors.
I was thrilled by how well-structured the program was, seamlessly integrating me into the team from the get-go. The constant support & guidance from my colleagues & supervisor were invaluable, creating a nurturing space where I could thrive both personally & professionally.
What a hymn of praise! Can you elaborate on the skills?
As stated, I had the opportunity to enhance my communication skills by actively exchanging ideas, asking questions & sharing knowledge with my colleagues. This experience boosted my confidence & sharpened my ability to collaborate effectively within a team.
In addition, I expanded my technical expertise by gaining hands-on experience with new technologies, tools & workflows. Because working on real projects allowed me to deepen my understanding of front-end development, including HTML, CSS & JavaScript, as well as frameworks like React & NextJS. I was especially stoked about this since it was an area I had neglected during my studies. I had some serious catching up to do, and thanks to my internship, I've been able to bridge that gap.
💡 Want to learn more about front-end development? Then we recommend you to read this blog 👉 What is a front-end developer, and what has he got to offer?
Furthermore, I honed my skills in designing visually appealing & functional user interfaces, while also optimizing website performance & ensuring compatibility across various browsers & devices.
What has been your favorite project? Please walk us through it...
The most enjoyable project I worked on was an internal project called "Localize." This was an internal endeavor that serves as a powerful & user-friendly localization management platform. It streamlines the process of translating & managing software or content, offering collaborative workflows, extensive language support & efficient tools for organizing, editing & deploying translations.
In my role, I was responsible for developing the front end using an existing design. By utilizing various web languages & technologies, I transformed the design into a fully functional user interface. This hands-on experience allowed me to effectively apply my development skills & collaborate with the dev team.
Additionally, working on Localize not only sharpened my web development skills but also deepened my understanding of creating impactful applications. It was truly a fulfilling experience that further motivated me to pursue a career in development.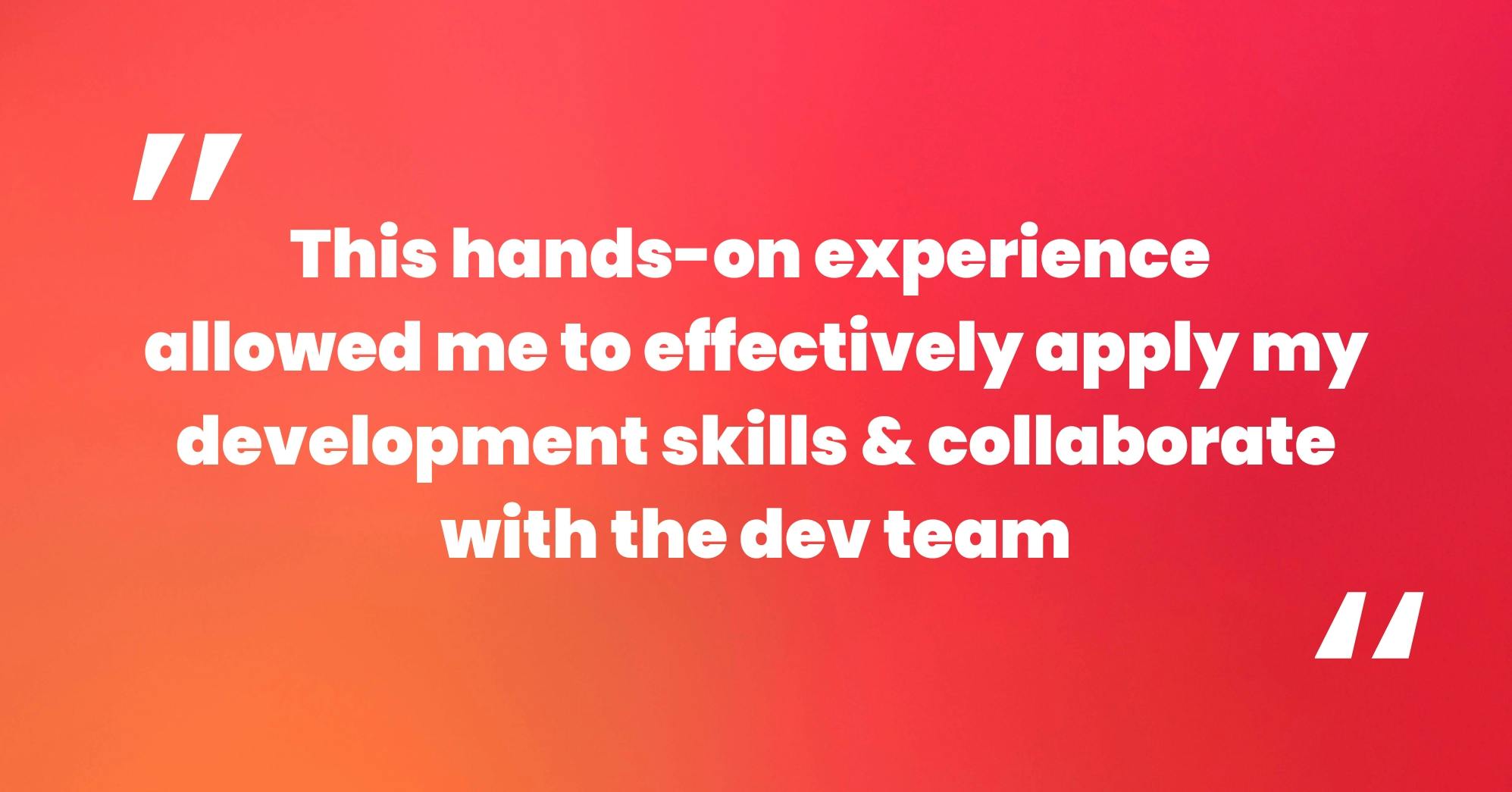 What are some of your strengths leveraged during your internship?
During my internship, I leveraged my strength in quickly grasping new concepts & my eagerness to learn. I actively sought opportunities to acquire new skills & adapt swiftly to assigned projects. I'm confident that my ability to comprehend complex ideas & communicate effectively with my team played a crucial role in my rapid progress & significant contributions to various projects.
What are some areas where you would like to improve?
In my professional journey, I have identified front-end development as an area for further improvement. I'm committed to enhancing my skills & deepening my knowledge in this field.
What steps have you taken to address them?
Well, I've pursued various avenues. During my internship at Nightborn, I focused on acquiring a solid foundation in front-end development by working on real projects & gaining practical experience with best practices.
Outside of my work, I've actively engaged in personal front-end projects to continue honing my skills & explore new techniques or technologies. These projects provide valuable opportunities to apply my knowledge & challenge myself.
In addition, I've sought out relevant training opportunities & undertaken personal initiatives to further develop myself. These actions have been instrumental in my progress & I'm confident they will contribute to my growth in this field. 💪


Do you feel that Nightborn encourages innovation & creativity among its employees?
Absolutely! Nightborn empowers its employees or interns by providing them with autonomy in their approaches & work methods. The company promotes open communication & implements support mechanisms for innovation.
This culture nurtures a mindset of thinking outside the box, where employees are encouraged to propose innovative ideas & contribute to the continuous improvement of the company.
Let's talk about company culture & values... Do they match your own?
Absolutely! Nightborn's company culture & values align perfectly with my own. Their emphasis on a positive work environment, collaboration & employee well-being resonates with my vision of an ideal workplace.
I was immediately drawn to Nightborn's friendly atmosphere & a strong commitment to professional growth. It's inspiring to see how they value personal development & provide opportunities for employees to expand their knowledge & skills.
Furthermore, Nightborn's dedication to quality work & attention to detail aligns seamlessly with my own approach. I believe in delivering high-quality results & paying meticulous attention to every aspect of my work.
Can you give an example of how Nightborn values employee well-being?
Nightborn prioritizes work-life balance for its employees by promoting flexibility & encouraging open communication. The company creates an environment where employees feel at home & are supported in their pursuit of a healthy balance between their professional responsibilities & personal commitments.
Nightborn values teamwork & collaboration through initiatives such as regular team-building activities. These events help strengthen team bonds & encourage communication, teamwork & collective problem-solving.
👉 Follow our teambuilding shenanigans on our Instagram page
Overall, Nightborn's culture fosters a positive collaboration & a team mindset, contributing to the collective success of the company.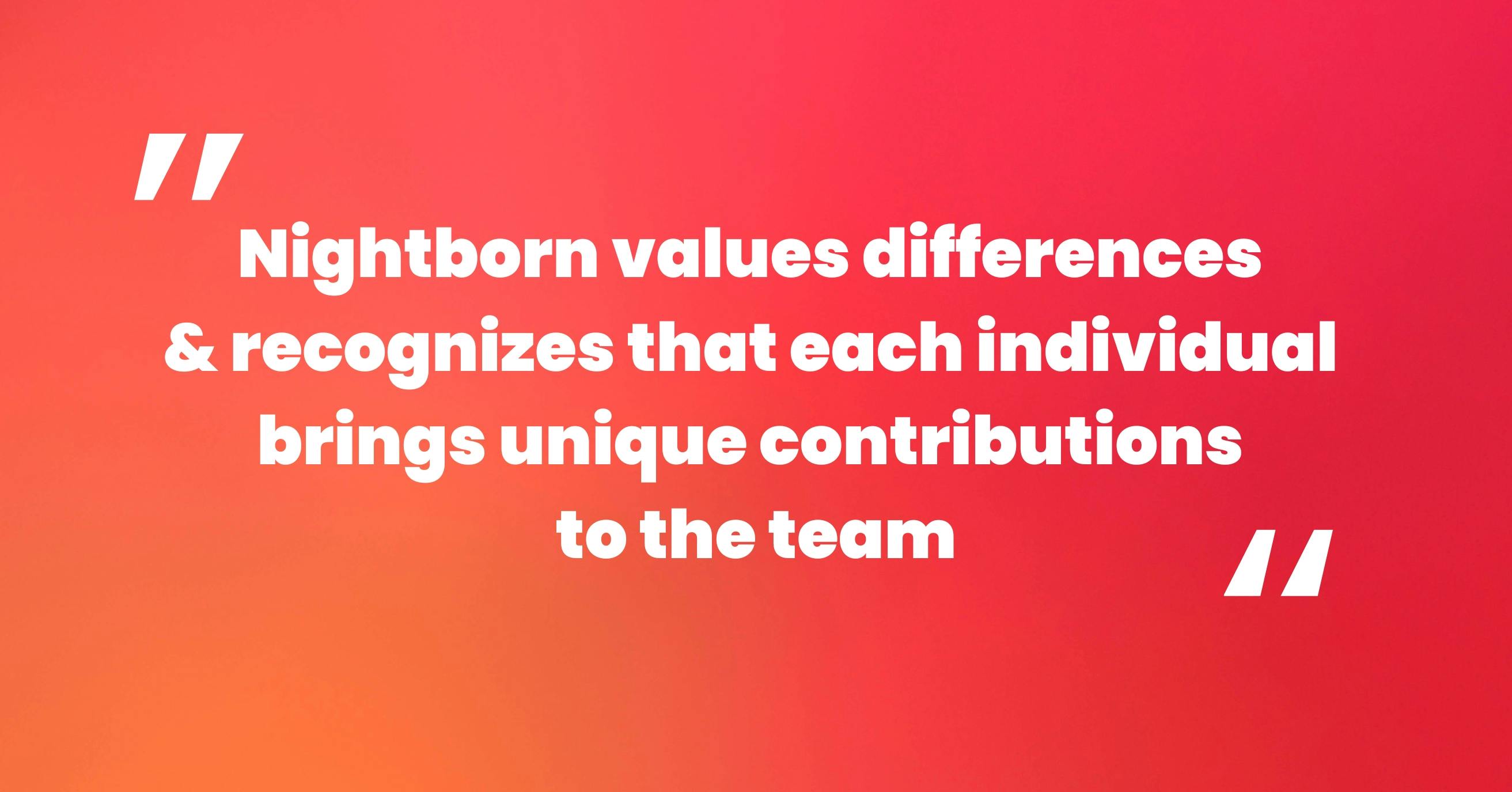 How does Nightborn support diversity & inclusion in the workplace?
Nightborn places great importance on diversity & inclusion, it implements concrete measures to support these values.
The company welcomes individuals from different religions, ethnicities, backgrounds & perspectives, fostering a diverse team rich in viewpoints. It recognizes that diversity is a source of strength & innovation, bringing forth varied ideas & perspectives to solve problems & make decisions.
Moreover, Nightborn takes steps to support the inclusion of employees with specific needs. Whether related to health, disabilities, or other situations, the company adapts to provide an accessible & inclusive work environment. Adjustments & accommodations are made to meet individual employees' needs, promoting their full participation & professional development.
Nightborn strives to promote a culture of equal opportunities where all employees are treated fairly & respectfully, regardless of their backgrounds or personal circumstances. The company values differences & recognizes that each individual brings a unique contribution to the team. 💙
AMEN! 🙏
As our final questions... What are your plans now & what advice would you give to someone starting an internship at Nightborn?
Regarding my plans after the internship, I haven't made any concrete decisions yet. However, regardless of the outcome, my experience here has provided me with excellent training & insights into the working world.
Nightborn has been supportive of my career growth & development. They've offered guidance & strategic direction through meetings with the CEO & my internship supervisor.
Hmmm okay, some valuable advice. 🤔 Drawing from my own experiences, here are a few key tips that can help people make the most out of an internship & set a strong foundation for careers in front-end development:
Master the fundamentals: Before tackling complex projects, ensure you have a solid understanding of front-end technologies like HTML, CSS, and JavaScript. A strong grasp of these fundamentals will facilitate smoother and more efficient development.
Embrace curiosity & exploration: Use your internship as an opportunity to explore various front-end technologies, frameworks & tools. Experiment & try different problem-solving approaches to enhance your expertise & keep up with the ever-evolving industry.
Seek guidance: Don't hesitate to ask questions. When facing challenges or needing clarification, reaching out for assistance will expedite your learning & problem-solving abilities.
Foster collaboration with the team: Front-end development often involves collaborating with designers, back-end developers & other team members. Learn to work effectively with them, understand their requirements & exchange ideas to create exceptional user experiences.
Stay updated on best practices: Familiarize yourself with front-end development best practices, including performance optimization, responsive design & accessibility. Stay informed about industry standards & guidelines to produce high-quality code & ensure optimal user experiences.
By following these tips, you'll be well-prepared to maximize your front-end development internship & significantly enhance your skills.
My time at Nightborn has allowed me to fill in gaps in my front-end development skills & gain invaluable experience for my future career. Overall, my internship at Nightborn was an incredible journey, leaving a lasting impact on me. I treasure this experience as a valuable stepping stone in my career.
Well, Youssef, we've reached the end of our interview.
I want to sincerely thank you for your time & for sharing your valuable insights. I wish you all the best in your future endeavors in the field of tech!
Did you like this interview? Then be sure to check out these interviews as well:
💡 Nightborn & Interns, a better love story than Twilight 🙌
💡 Interview Pierre - What's it like to be a UX/UI Designer at Nightborn?