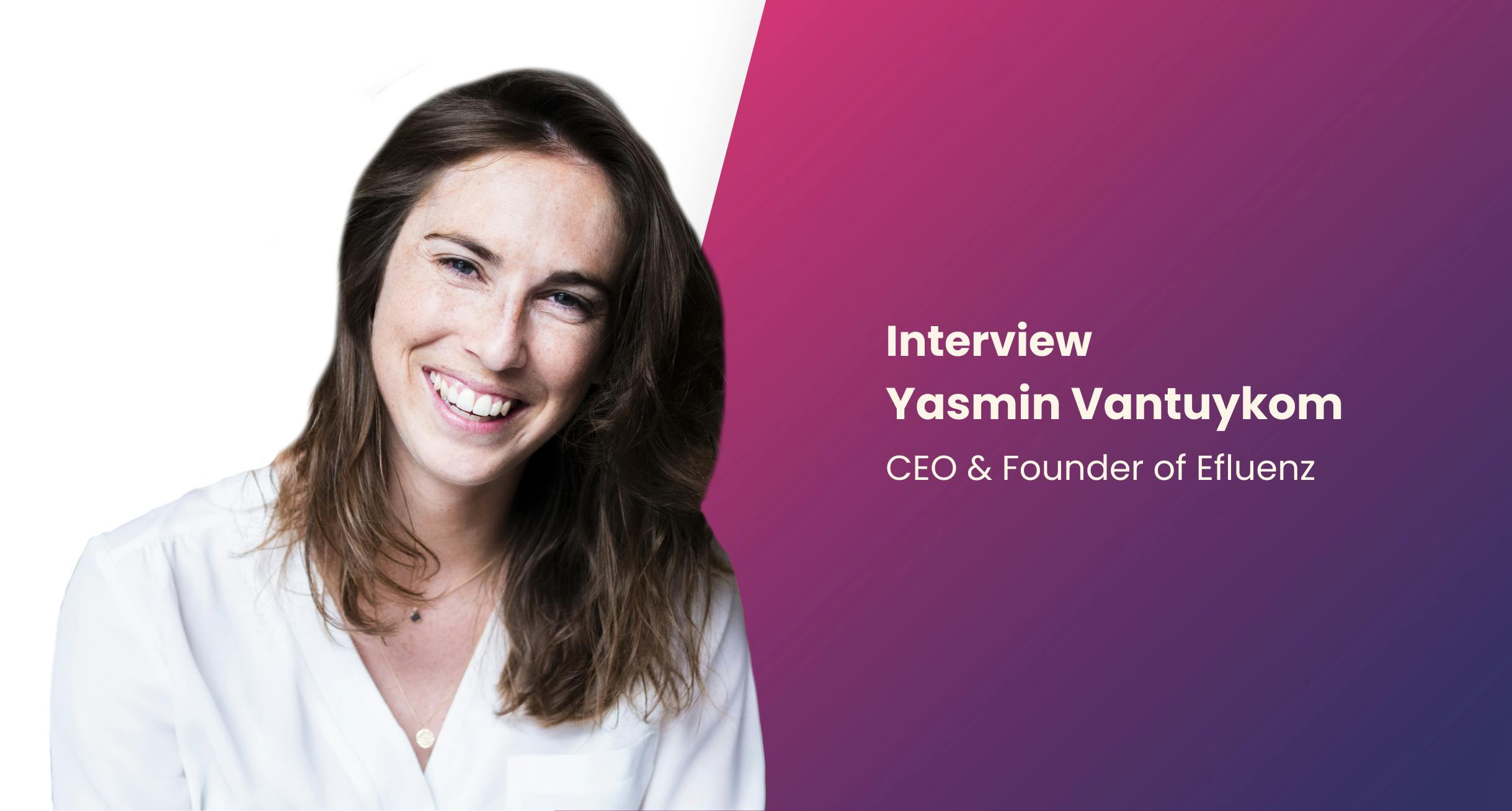 Let's give Yasmin a brief introduction! 🙌 Yasmin Vantuykom is CEO & Founder of Efluenz, a full-service Influencer Marketing Agency startup that brings together the top influencers for brands.
More on that later in this interview...
First things first! Education... Yasmin attended high school at Don Bosco Haacht where she earned a Latin & Mathematics degree. After completing high school she continued her education at the KU Leuven, where she obtained a Master of Engineering in Logistics, Materials & Supply Chain Management. Afterward, she also completed a ManaMa at HEC Liège, where she earned a Master's degree in financial risk management. 👏
💡 You can find more details about Yasmin's qualifications, employment history, education, skills, and experience on her 👉 LinkedIn profile 👈.
Hi Yasmin! Thanks for making time for us so quickly! Let's do this! 💪
It appears that pursuing a career in marketing wasn't your original plan, based on your education & first job experience...
Yes indeed, it turned out a little different 😅.
After obtaining my degrees, I started working at Deloitte. At the time, it was typical for us, graduates, to apply for a job at the Big Four (👉 Deloitte, Ernst & Young, KPMG, & PwC) & see where we ended up.
In my case, I ended up at Deloitte, one of the largest providers of professional services in the field of accountancy, tax advice, consultancy, risk advice & financial advice. There I did risk consultancy in all different sectors & industries... In the procurement sector, but also in finance, HR & even Marketing.
What exactly is risk consultancy & how long have you been doing it?
I helped organizations assess their risk and develop a plan to minimize their exposure to loss. This effectively means doing internal audits to see where things went well & where not. This way, organizations could prepare for the damage a single adverse event could cause.
That's about it in a nutshell... I did this for about 4 years.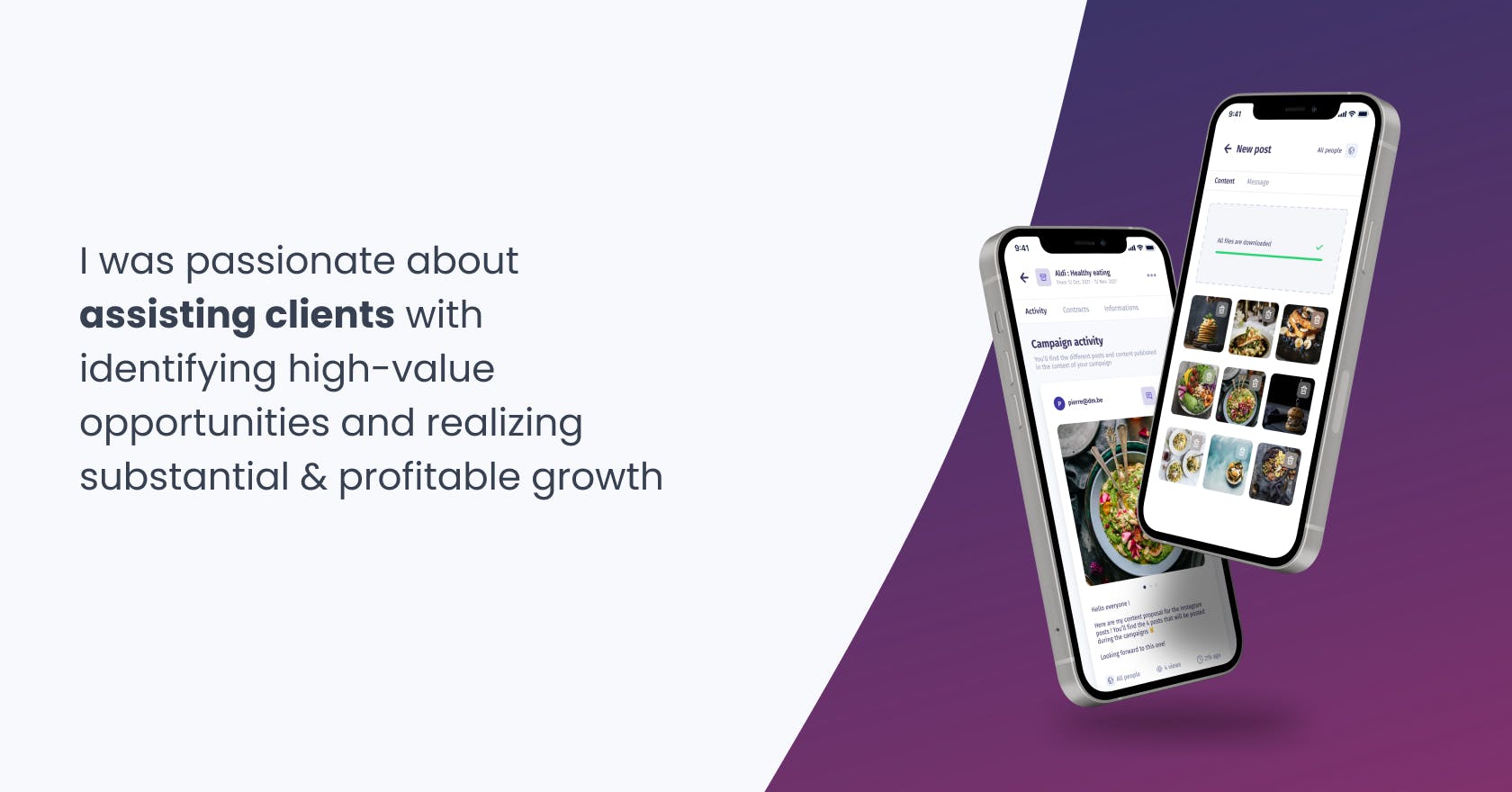 Ok, sounds challenging 😊. After this, you started at Hedera Consulting. Why?
I wanted to go into Marketing... As mentioned, I already had my first steps toward marketing (although limited) at Deloitte, but I wanted to go further into this. So I took the step.
I also thought it was interesting that Hedera was a small consulting agency. It was an inspiring community of experienced marketing, sales & service consultants as well as project & program managers, operating internationally. I was passionate about assisting clients with identifying high-value opportunities and realizing substantial & profitable growth.
I ended up working there for a year. During that period I was working on a project at BNP Paribas Fortis, in the marketing B2B department, to help write & apply the marketing strategy, as an assistant to the head of marketing.
💡 In the meantime, Hedera Consulting has been sold to consulting giant Cognizant.
Around the same time, you founded your first company #YVSoMe.
Yes, when I was working at Hedera, I started #YVSoMe, which stands for Yasmin Vantuykom Social Media. 🙃
As a side job, I was managing communication channels of small retailers. Among them were restaurants & cafes. But also cosmetologists & jewelry brands etc... It contained mostly managing their social media platforms such as Instagram, Facebook, and LinkedIn.
Does it still exist?
No, It's no longer active.
Because Efluenz was still an uncertain step at the time, I kept it active for a short while. I also had a freelancer who helped me to manage it. But in the end, it was no longer possible to combine & I decided to stop it.
Why did you decide to start a brand new Marketing Agency instead of expanding or transforming #YVSoMe?
Well, this decision was actually twofold. First of all, I felt ready to take the next step in effectively managing employees/people & not solely working as a freelancer anymore.
And since I already managed a number of accounts as a freelancer, I came into regular contact with influencers & influencer marketing already. You have to know that at the time, about 6 to 7 years ago, the concept of "Influencer" was still fairly new & there was no legal framework whatsoever. You negotiated a few individual assignments each time & that was that... 🤷‍♀️
I thought to myself "here's an opportunity!".... And that's how I came up with the idea of founding Efluenz.
To develop this idea I was contacted by Startupfactory, which at the time was an incubator of BNP Paribas Fortis (where I had my contacts through my job at Hedera...). It went really fast from then on. In June 2018 we made an appointment for the first time to talk about the concept.
Next, Efluenz was founded in September. 🚀
I saw on your website that you won the Promising Young Entrepreneur Award from Co-Station? Congratulations!
Thanks! Yes, this award was given by the community for entrepreneurs Co.Station. A nice acknowledgment 😇
💡 A few months ago, Co.Station innovation consulting activities have been acquired by Nova Reperta
Did you move since then?
Yes, we spent the first 6 - 7 months in Co-Station, where I also had my first interns 😊. But around March 2019 we moved to where we are now: Rue Royale 100, Brussels. 🏠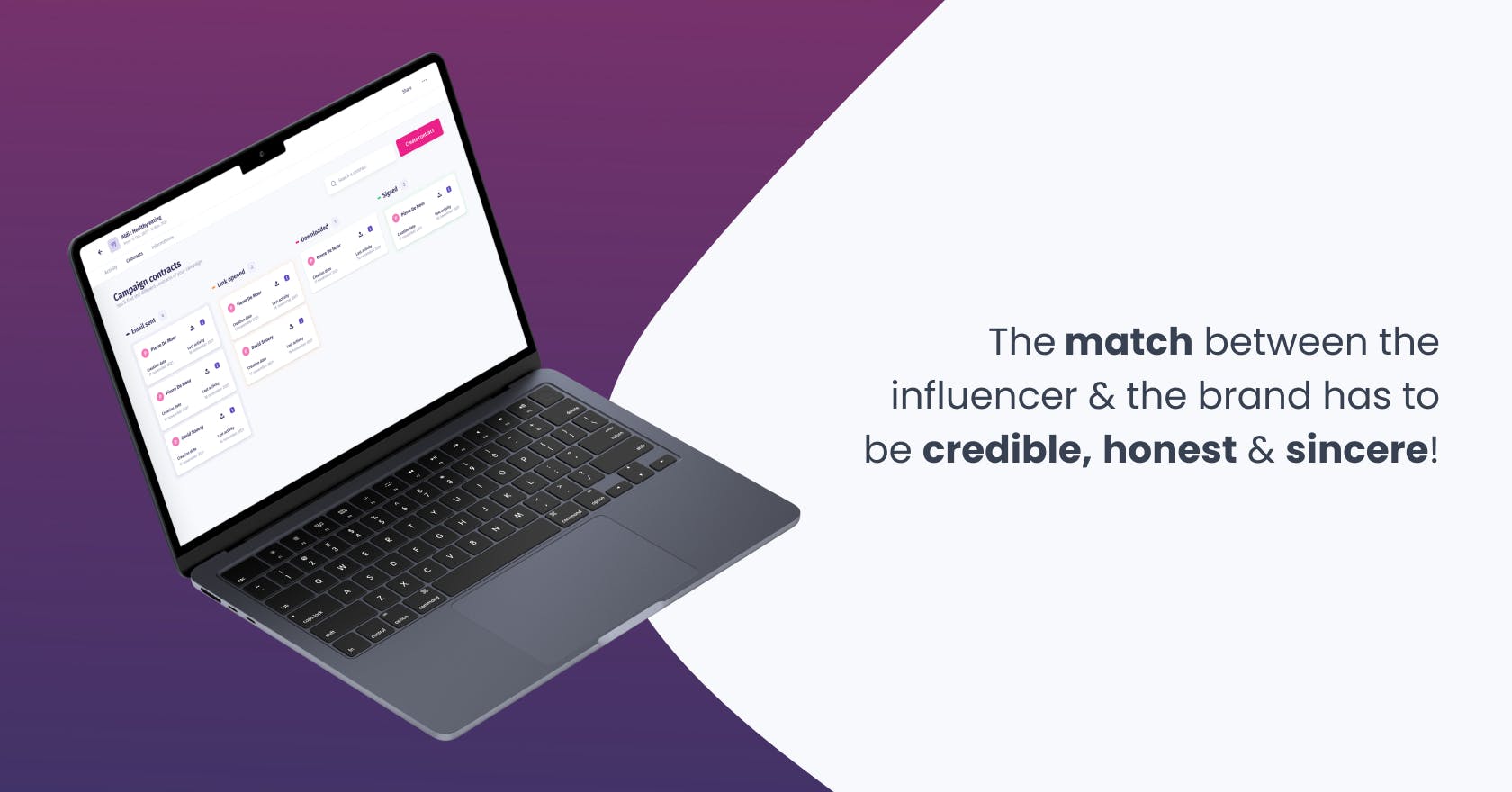 Can you explain the concept of 'Influencer Marketing'?
At Efluenz, influencer marketing is effectively establishing credible links or connections between the influencer & the customer or brands. The bottom line is, that it's the intention to make the brand more attractive or beautiful through meaningful connections!
💡 To give a simple example: If a company such as Coca-Cola says "I'm the best", or an influencer says that Coca-Cola is the best, it has a totally different impact or effect.
Using the term "influencer" is difficult because for some people it still has a negative connotation. But for me, everyone is an influencer...
💡 Because when you're having a bbq with your friends or family & you give them advice or praise certain products or services, then you are the influencer for them. Because they take your opinion seriously!
You just don't get paid for doing it... 💸😅
It's actually a kind of authentic Word-of-Mouth advertising that we stand for. Because we want the influencer to effectively test or use the product they promote. The match between the influencer & the brand has to be credible, honest & sincere!
We don't want a fitness influencer to promote a pizza brand 🤓
Indeed, credibility is key 🗝️
Exactly!
Another great strength of Influencer marketing is the fact that the consumer chooses to see the influencer & the "advertisement". Because the consumer ultimately decides who he or she follows on social media.
Something that's obviously not the case with Paid Advertising Campaigns, where you're simply targeted based on your profile, demographics, gender, age, etc... This marketing approach certainly works but can also be experienced as quite annoying!
Every single day seeing the same messages on my Instagram or Facebook feed because I'm a woman with children in her 30s, is a bit annoying. But, when I follow "mom influencers" who promote the same products or services, I find it less annoying, as I choose to follow them myself.
In the end, I will only follow people in my environment, people who I feel connected with, or people who stand for the same values as me.
Do you have all those influencers in a big database?
Yes, we currently have over 6k influencers in our database. Mainly in Belgium, but also in France, the Netherlands & Germany.
Our influencers are thoroughly background-checked by us. What I mean by that is that we'll check how many followers they have, where they're located, whether they are real followers or not, etc...
At Efluenz, we don't work with exclusivity contracts for our influencers. This means they can perfectly work for other agencies or for other brands if they want to.
Instead, we choose to work with temporary exclusivity contracts, which expire 3 months after the campaign. These contracts say how much the influencer will earn, what type of content is expected, what's expected concerning the legal rules to add in the message (for example #advertisement), or what timing must be respected.
So during the campaign itself, they're not allowed to work with competitors?
True, but they're allowed to work for brands or companies from other sectors.
💡 For example, if one of our influencers has a campaign for Coca-Cola, they're allowed to work for, let's say, Colgate in the meantime. But not for Pepsi Cola ☝️
Makes sense... 🤓 How do you recruit influencers?
It's actually very easy, we scroll... 😅
In Belgium, over the last 4 years, we already collected almost every influencer out there. Of course, new profiles are added every day, so it's always an ongoing process.
We divide our database into different categories or niches, because our customers may have very specific questions: "The influencer should be someone doing renovations " or "it has to be someone playing classical music". Within that particular niche of our database, we look for the right influencers & pick the best one.
In some sectors, this can be very challenging. In sectors where influencer marketing is already popular, we often have to look for someone who doesn't have a contract with other brands or companies.
Another way we recruit influencers is that the influencers just come to us. They see certain online campaigns & email us to ask if they can be added to our database. This happens every day & is almost a job in itself. 🤷‍♂️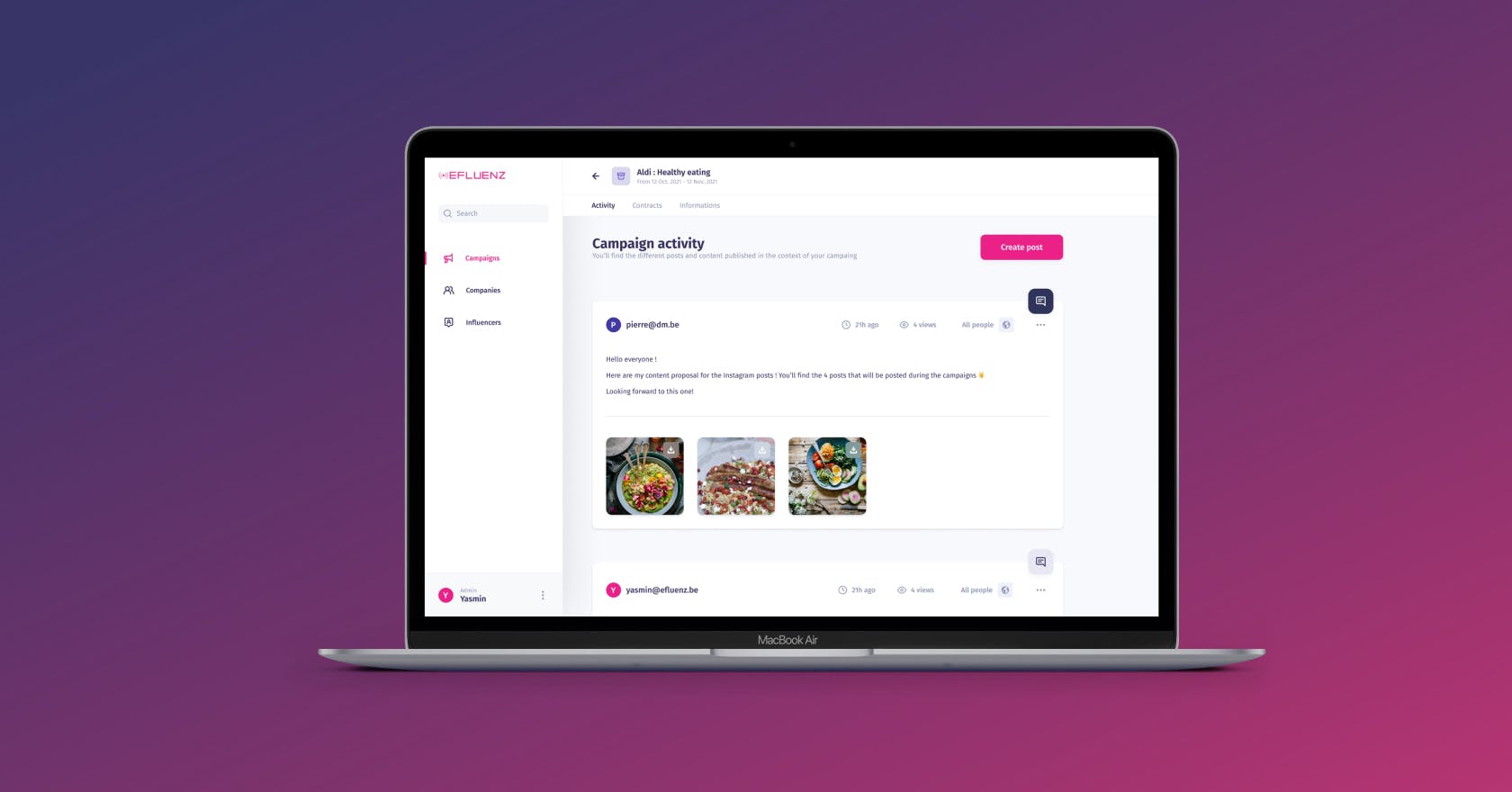 Do you develop campaigns for companies yourself?
Yes, we develop the campaigns or concepts for companies from A to Z: the directing, creative concept & reporting.
We decide the goal of the campaign, whether we're in a B2C or B2B market & start writing the strategy:
👉 What's the objective of the customer?
👉 What is the target audience?
👉 Which channels will we use to launch the campaign? (Instagram, TikTok, LinkedIn,...)
👉 How do we present our message? Through videos, Reels, stories, pictures, or text...
You name it 🤷‍♀️
After completing the strategy, we brief the influencer that they've been contacted by brands to develop a certain campaign. Next, we figure out the creative concept as a guideline. However, our influencers still get a lot of creative freedom & can make their own contribution.
Afterward, we do the reporting:
👉 How many people have we reached?
👉 What was the conversion rate?
👉 How many clicks on the website?
👉 ...
Damn, that's a lot of work! 🤯 So I assume you've already gathered a big team?
We currently have 16 employees on the payroll. Also 2 freelancers & always a number of interns.
What does your day-to-day job as a CEO look like?
Hmmm, a lot has changed since its inception about 4 years ago. In the beginning I did everything... From sales to developing & guiding the campaigns, contacting the influencers, etc... This gradually evolved into just sales.
Until about a year ago I was the only one within the organization who did sales. Now, since February, I have 2 people who do it as well. Last March we also hired a team leader who manages all day-to-day management. He follows up on the business processes, the payroll, etc...
Those were in fact my 2 biggest tasks.

Since I've just returned from maternity leave, I'm mainly focusing on expanding Efluenz in France, where we now generate 15% of our turnover. I believe there's still a lot of potential & growth margin for us in France because the market is so much bigger (logically) if you compare it with Belgium. Influencer marketing in itself is also less advanced, structured, or common as with us, so there's certainly still some margin in that.
Besides that I'm also involved in all strategic matters: where are we going & what type of service are we going to offer?
As a CEO it's important to get to know many new people, make connections, networking & putting the right people in the right place.


I saw it on your Instagram feed! You became a mother of 2.
Congratulations! How is that going?
Thank you! Yes, we have 2 daughters. 😍
Everything is going well, they are both still going to daycare. So we'll see what the future will bring.
So far, so good! 🙏😊
Nice to hear!
You said "focusing on expanding Efluenz in France"... Where exactly are you located in France?
We're active in different locations: Paris, Lille, Amiens, Ruan, Reims,... Because we have multiple partners.
What we do is we go to them & present an update of our cases or cases that we've done together, etc... We discuss with them what worked well & what didn't.
And of course, enjoy a good lunch together 😉
Of course! Eat better, work better! 😇
Efluenz has already some major national & international customers such as Huawei & Lego. But, which campaign are you most proud of?
That's a difficult question because our campaigns are very broad. As mentioned, we're active in different sectors, from the government to everything from retail or (tech) telecom.
But the campaign we're most proud of is a recent one: VISIT BRUSSELS
We were the lead agency in this project & I choose it because it ran in several countries. We worked with influencers from France, Germany & the Netherlands. They got to know our infrastructure, each other, the team & of course... Brussels.
VISIT BRUSSELS was a mix of online & offline media. Offline, we worked together with an agency that ensured we had cargo bikes that were completely branded. They also provided us with 100 roses, which we then distributed all over the city 😍🌹 In addition, articles appeared in newspapers, such as Le Soir, etc...
That was really a big campaign that lasted for six months & with over 30 influencers.


How do you see the future for Efluenz?
We want to expand on 2 different levels: Abroad & in unexplored sectors.
Our focus is to be present in several countries & grow over there, as we are currently doing in France. At the moment, we're also active in Germany & the Netherlands as there was a demand for influencers. Once you have a few cases abroad, it is also easier to grow there.
Next, we want to focus on expanding in different types of sectors. Where Food & Drinks used to be our main sectors for influencer marketing, we're now also approaching or guiding other sectors. Such as the government, banks & insurance. 👊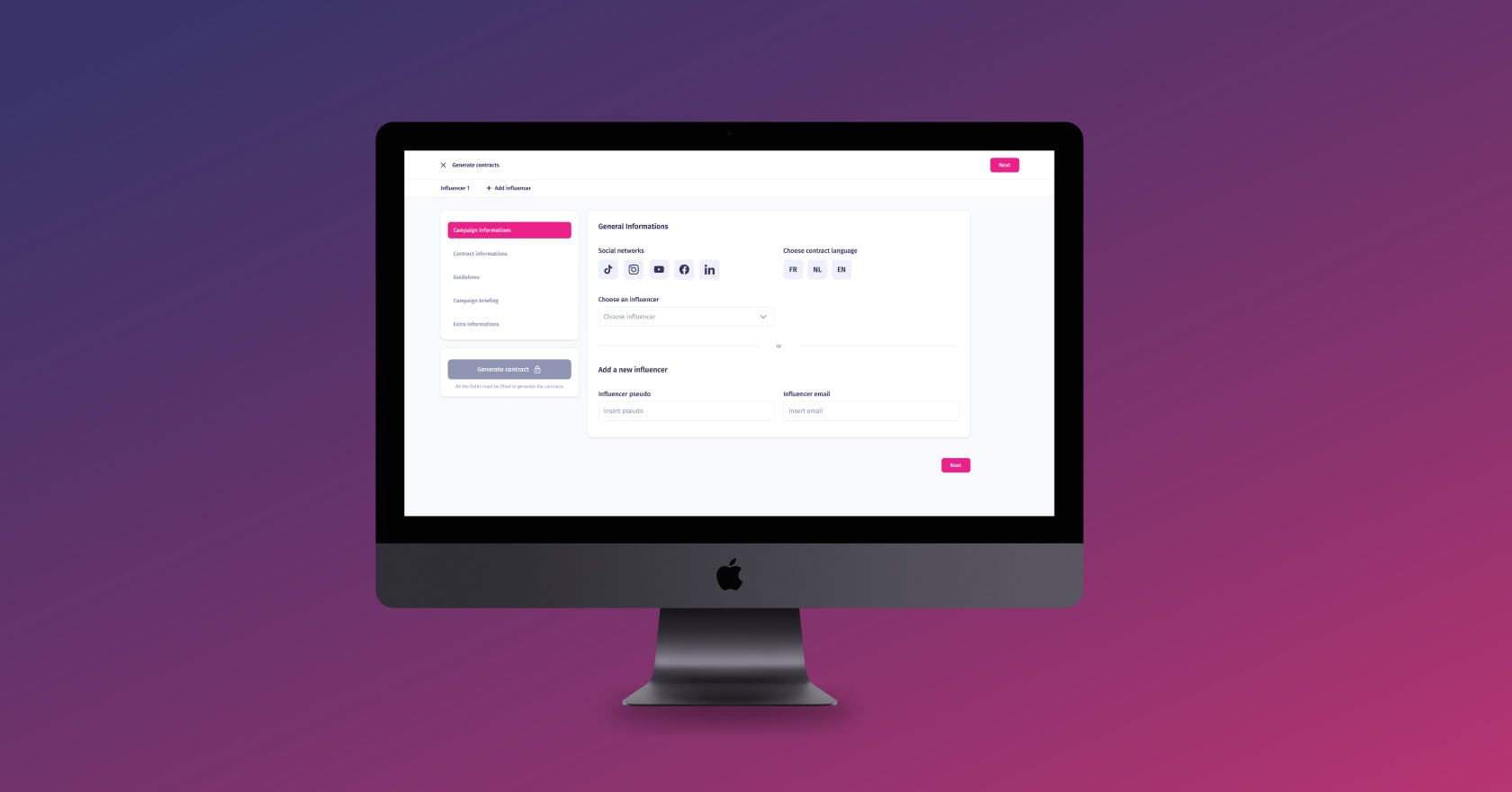 Can you explain what exactly Nightborn did for Efluenz?
We wanted to upgrade our back-office tools & replace our Google Drive folders with an actual application or location where both our team, customers & influencers could log in to see & sign contracts or to get an overview of ongoing campaigns.
So, Nightborn created a web application on which we can fully manage each campaign. From automatically generating contracts to direct communication with our team, clients, or the various influencers. 
Influencers can upload videos or pictures for each campaign in a centralized space on the web app. The content of this campaign is easily accessible to all stakeholders involved. Allowing us to optimize & validate the created content before it's published. Guaranteeing the best high-quality content out there.
We make sure that our clients & influencers never have direct contact. We're always in between as the middleman, because that's important towards data privacy & GDPR etc.
💡 Check out the full Case Study Nightborn made about Efluenz 👉 Case Study Efluenz
How did the collaboration with Nightborn go?
Everything went very smoothly. They were (& still are) super accessible! It doesn't matter the question, you'll receive an immediate answer at any time of the day. Nightborn is a young company with a young team, a bit like us 👼🏻. So I know how important customer feedback is & how important the speed of feedback is.
I have to say that it was very good. You can feel they're still growing & learning, but will do anything to improve fast.
Do you have some advice or tips for the team?
I think the hardest part of the job for Nightborn was the fact that they don't fully know the business & what's most important to us. That's pretty normal of course. What's obvious to us & what we think should be included in the budget or in the app, isn't always obvious for Nightborn. That sometimes caused some minor problems. 🤏
Therefore, the only advice I could give is to add more follow-up meetings when the project is in full motion. The brainstorming sessions & first scopes are very good, but it quickly becomes very technical for people who don't know to program 😊. So I think it would be interesting to repeat those meetings in later stages of the project to make sure both parties are on the same page & to know for sure which features are now available, which are not & what we had actually discussed.
That's good advice! We'll keep this in mind & work on it! 🤝

That's about it. Thank you again Yasmin for taking the time! We wish you all the luck in creating authentic connections🚀!
Want to learn more about Efluenz? Check out their:
👉 Website
👉 LinkedIn

We'll keep in touch! 🙌