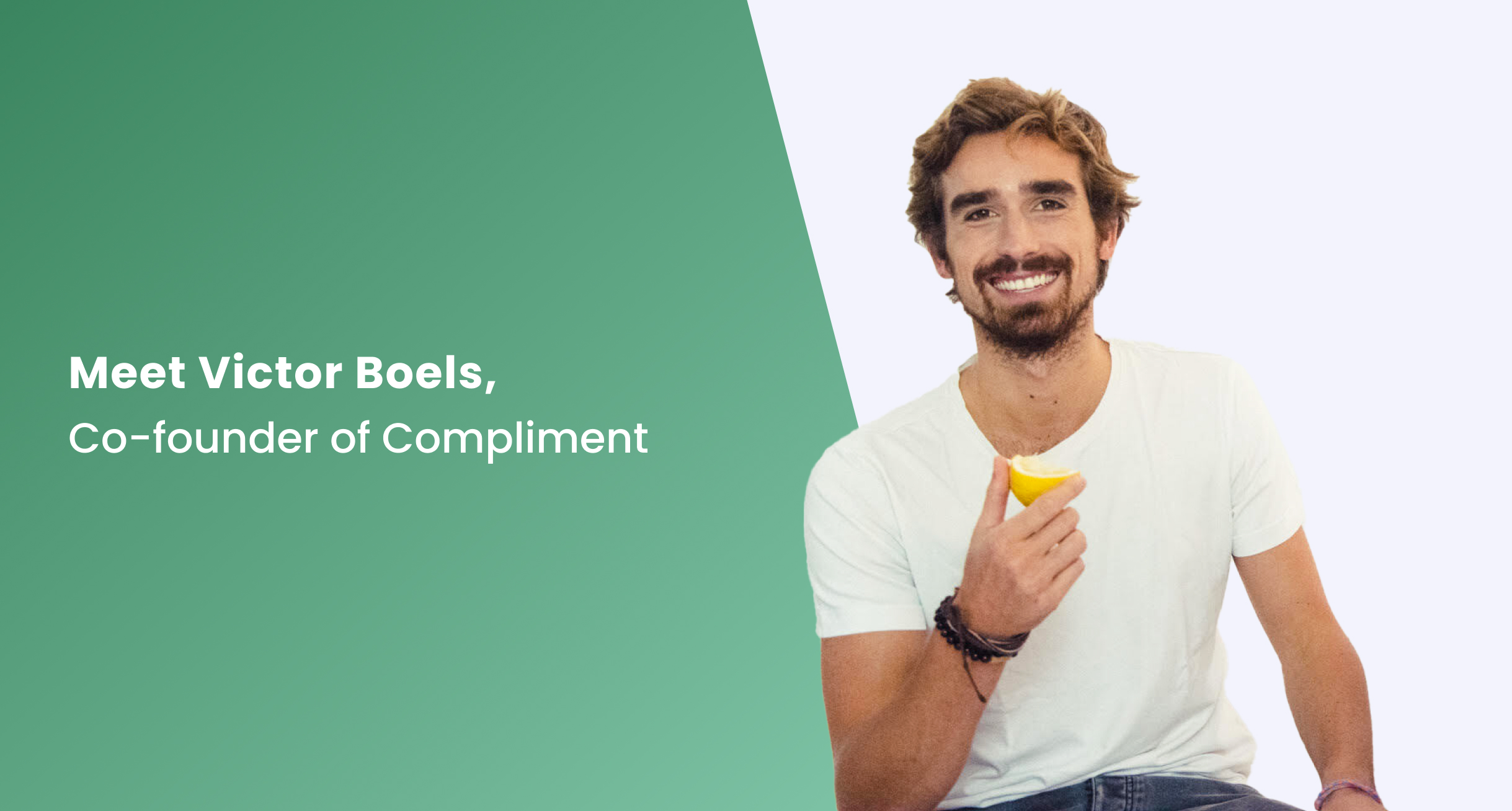 Starting a business is a journey that requires perseverance, hard work & a bit of luck. For Victor Boels, co-founder of Compliment, it all began with a school paper on starting an Airbnb for parking spaces & transitioned into Compliment, a Brussels-based startup that provides custom vitamin recommendations based on diets & health goals.
In this interview, Victor shares his story on how he co-founded Compliment, how he experienced his first years in business & how he met Nightborn.
Let's meet Victor! 🎙️
Good afternoon Victor! Thanks for taking the time to do this interview! Let's start off by telling us a bit about yourself, please.
Sure, I'm a born & raised in Brussels where I completed my studies in Business Engineering at Solvay. During my final year, I collaborated with my associate William Detry on a memoir about creating Sharemypark, an Airbnb for parking spots. We eventually launched it with StartLAB.BRUSSELS, a business incubator at Solvay, where we were one of the first startups in that program back then. 
After two years of working on this project, an Irish firm approached us & acquired our business, which was actually a great success story as we bootstrapped everything. That's why, during the earn-out, William & I started considering launching a new venture since we made a good team. William's strengths are in marketing & sales management, while I focus more on operations & development. The perfect match 🤝
After analyzing many different businesses in the UK, we discovered a company called Care/of with a similar business model to what we had in mind. 
Around this time, William's father suffered a TIA, caused in part by severe nutritional deficiencies. This unfortunate event had a profound impact on William & me, as it made us realize just how important proper nutrition & supplementation are for maintaining good health.
This negative experience combined with our previous research only strengthened our interest in this field & led to the eventual launch of Compliment, focusing on providing high-quality nutritional supplements to customers.
Wow! A true testament to the power of combining research & personal experience to improve people's lives. 💪

Let's talk more about Compliment... What's your core business & what's the added value you bring?
Well, 2 years ago it actually started with an initial subscription & B2C model where we targeted students with personalized packs of vitamins & supplements to help them during their exam periods. They could take an online test with about a hundred questions related to their objectives. Based on their answers, we suggested a custom pack of pills.
Although we had good traction, we realized that students didn't have the budget for it. Nonetheless, we saw potential in the business model & value proposition so we started targeting older people too.
So, it started out as an e-commerce webshop?
Yep, we started out with a homemade webshop on Shopify & began doing ads on Facebook & Instagram. 
Things were going fine... We gradually gained traction, made our first 10k in revenue & hired a developer we found on Fiverr to improve our site. I have to say that working with Fiverr freelancers was a bit challenging due to their inconsistent work quality & unreliability... But then again, at that time we didn't have a high budget & freelancers were pretty cheap.
Business continued to go very well & we reached the 50k monthly revenue mark, which was quite impressive for a two-person team. But, to be fair… This was right at the beginning of the pandemic when overall online sales were peaking, which also boosted our metrics. It was truly the perfect storm for us & we were lucky to have achieved such success so fast. 😊
These new funds also allowed us to hire new staff, including marketers & developers.
Wow, it really went like a train then...
Yes, but then Covid lockdowns were over & our sales started to slow down. We didn't have the same growth & all companies went online. This made us realize that our business model needed to change because our customer acquisition cost was exploding & the margin we were making wasn't enough to reimburse this cost of acquisition.
That's when we came up with the idea for Compliment PRO, which is a B2B2C model & SaaS product for nutritionists, dietitians, doctors, etc... convincing them to recommend our products to their patients.
This was a completely different strategy! As we shifted to creating a sales team that uses a CRM system, makes cold calls, sends cold emails & makes sales pitches. It took us around six to twelve months to make this challenging shift, as it also meant accepting that our first business model had failed (kinda... 😉). 
As of today, we're at a point where our focus is 95% B2B2C & 5% B2C as we see the strongest growth in this market.
We're becoming some kind of marketplace or pharmacy for nutritionists & dietitians. Providing them with good-quality products that have been filtered & vetted by us (we call them "protocols") & suggest the right combination of products for their patients. 
This creates value for:
👉 Health professionals, because they can find all the products they need in one place.
👉 Patients, who no longer need to go to multiple websites to purchase their supplements.
👉 The labs that develop the products because they're able to sell them to our audience through the app, which is a huge market for them. Plus, they're able to collect a lot of data in the process.
We're super happy that we made the shift as we prefer the new model, because it's more exciting & tangible, with revenue sources that are much more stable.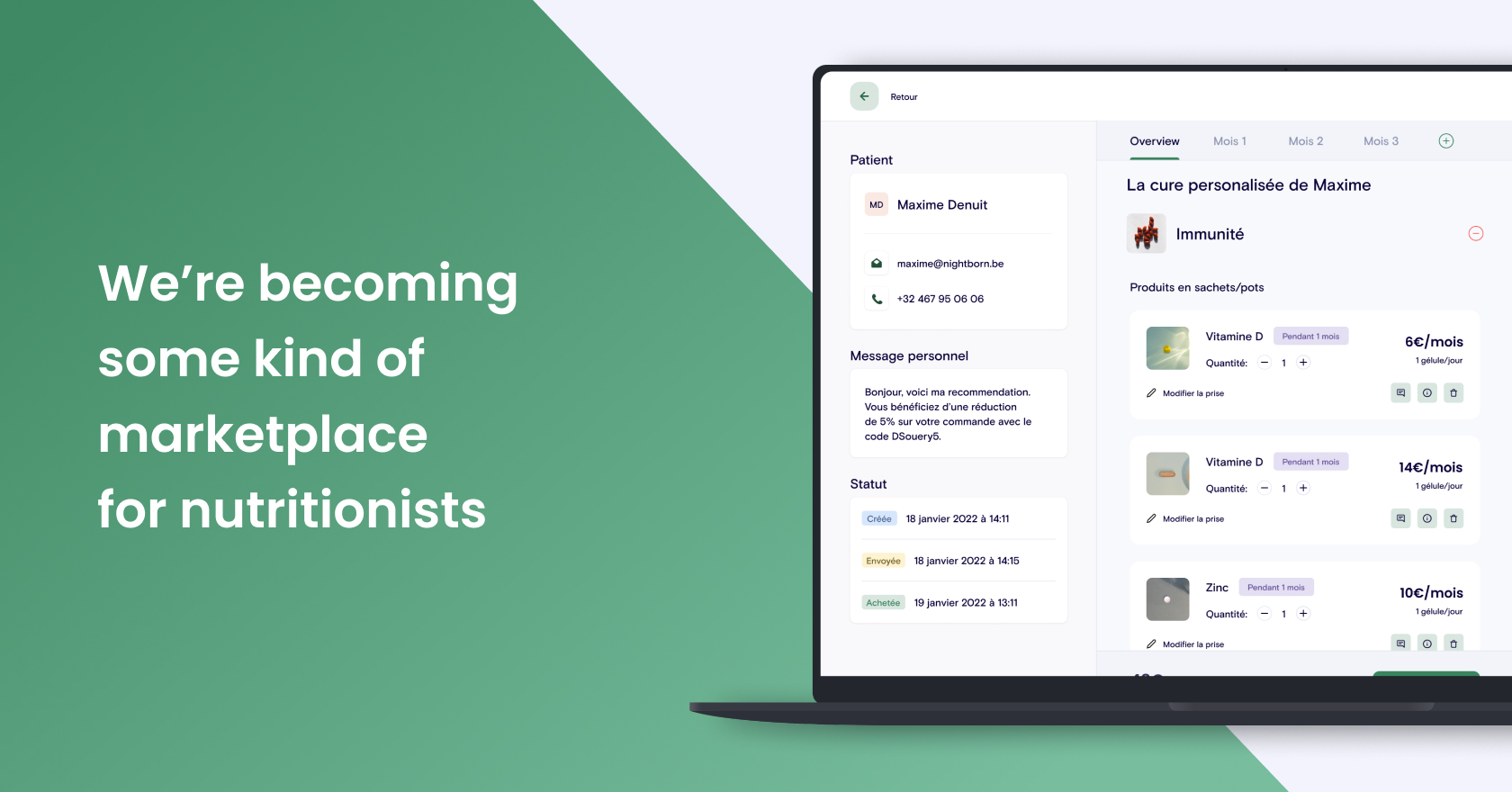 With the shift to a new SaaS platform came the need for a higher level of development I suppose?
Exactly, but we still had issues with finding the right rhythm & creating a good culture in the development part of the company, due to a lot of rotation in the team. We always found good profiles, but they left after six to twelve months, taking their knowledge with them. This high employee turnover was costly & disruptive to operations.
Our company had developer needs, but it wasn't a big enough challenge for them, which was understandable. Because if you've been doing studies in IT for five years, you don't really want to be taking care of a Shopify or small SaaS… It's not really exciting. 
At some point, we were like "okay… What do we need to do?" 🤷‍♂️
So we decided to either find a CTO with a high stock option plan or work with an agency that would stick with us,… That's when we contacted one of our investors, Nicolas Debray. He's always been our coach since StartLab & knew about Nightborn. He told us that we should meet you guys.
Alright 😎. That was my next question: How did you end up working with Nightborn?
So yeah, we did (obviously 😅) & it was immediately clear to us that we had to start working with Nightborn.
We had a really good fit with Maxime & David because they have a small structure (like us), a great vibe & their prices are reasonable, unlike big tech companies, who charge you for a product manager, project manager, etc... When you only need one developer.
But what really sets Nightborn apart is their availability & responsiveness, which is probably the most important for us. I can send a Slack or email at any time & I know I'll get a response within the hour...
Plus, Max & Dav are both super talented. I mean, I don't know about the quality of Max's code, but he seems like a really smart guy, so I trust him. 😉 David too, he's really a super intuitive designer! When we started working with him, he quickly transformed our app's UX with a mock-up that we loved. We began rebranding & implementing it, and it turned out to be a huge success.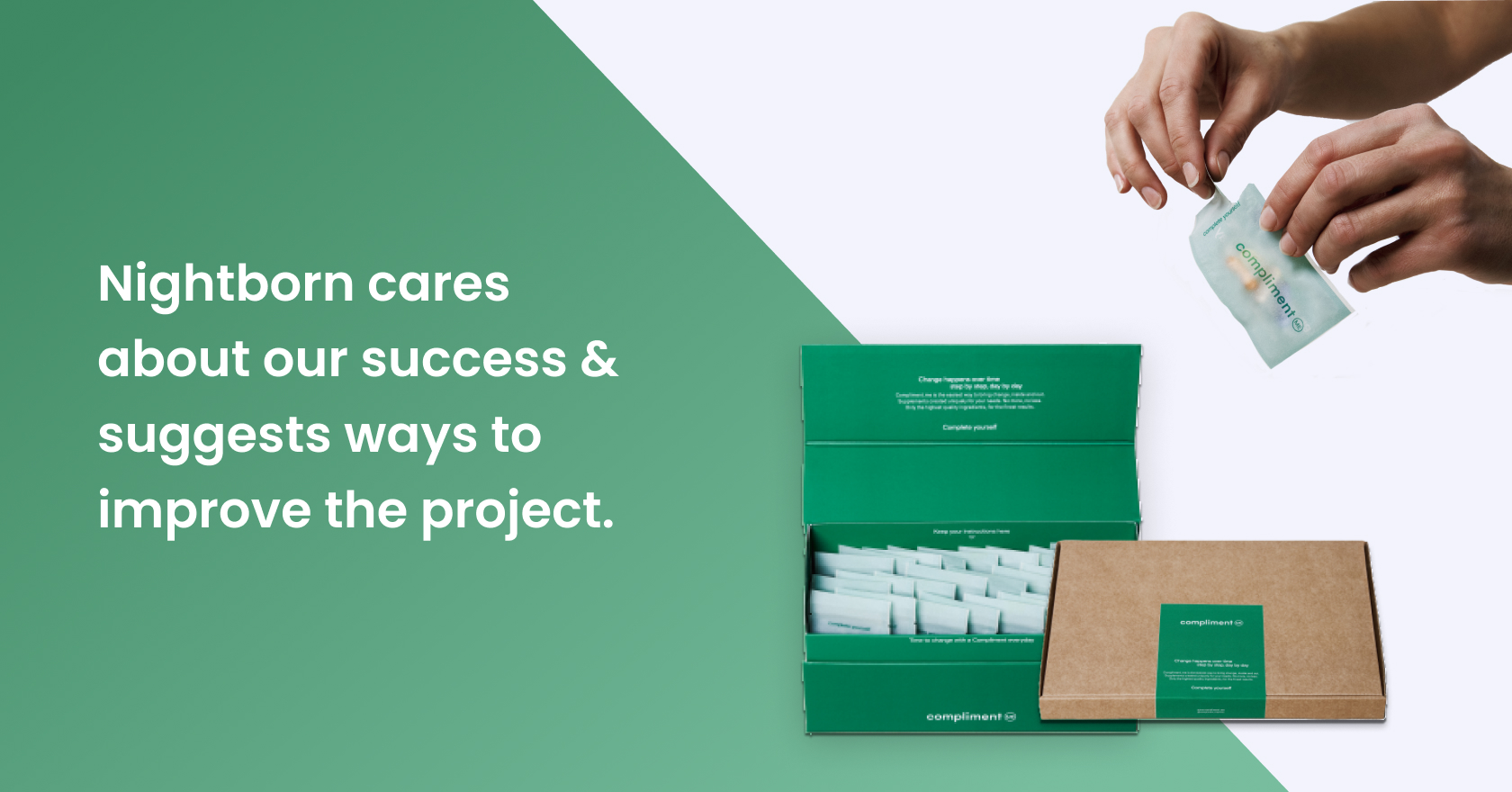 That is so nice to hear! How is the collaboration going at the moment?
As we continued to work together, we discussed their role in our company. After all, we didn't have development needs every day of the week, but we wanted them to work with us to manage our IT. So they suggested they take on the role of external CTO & make the important technical decisions about the backend, frontend & overall structure. For me personally, this was a perfect arrangement since I have no technical skills. I mean, I understand everything, but I'm not capable of making those decisions.
Sometimes, they also act as consultants, proactively identifying potential issues without us even asking.
Recently, we encountered a critical problem with our app's performance due to a significant increase in products (from just 30 to 300 in a matter of two to three months, something we didn't anticipate). Nightborn quickly identified the issue & recommended a solution, stressing the importance of addressing it immediately to avoid losing customers.
This level of proactive advice, care & expertise is incredibly valuable to our team as we wouldn't have been able to predict this issue on our own. It's apparent that Nightborn is more than just a team of developers putting in their hours. 
They genuinely care about our success & suggest ways to improve the project. 💙
True, we strive for collaboration & partnership, and this is a perfect example of that.
How do you see Compliment expanding in the future?
We see a lot of potential for growth in this B2B2C business model, especially in the French market, which is currently also our biggest market. Even more than Belgium.
We plan to add 15 to 20 more labs in the next few months, which involves a lot of work, such as purchasing stocks & educating our community about new brands & products. 
We currently work with around 2000 nutritionists on the platform, but the market is much bigger, with more than 80,000 nutritionists in France alone. Once we have established ourselves in France, we plan to expand to the Netherlands & Flanders, which is the biggest market in Belgium.
I think the future is bright for this business model & we're going full power in that direction! 🚀
Thank you Victor for taking the time to share your insights & experiences with us! It's been fascinating to hear about your journey & the innovative approach you're taking in the nutrition & supplement market. Best of luck with your continued growth & expansion into new markets.
👉 Do you want to get in touch with Victor? Check out his LinkedIn profile!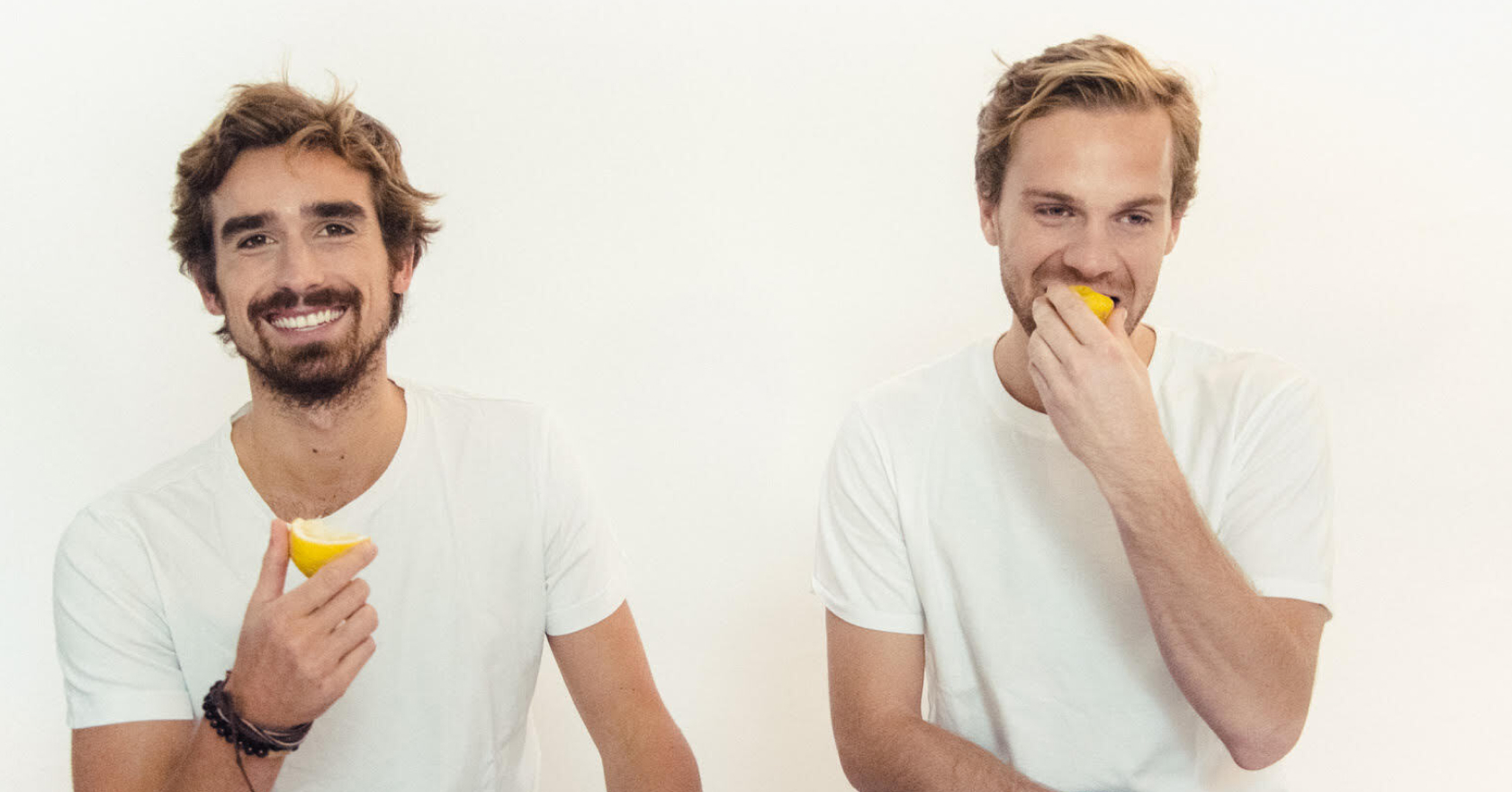 💡 We're currently working on a case study to highlight our collaborative process & strategies. Stay tuned!