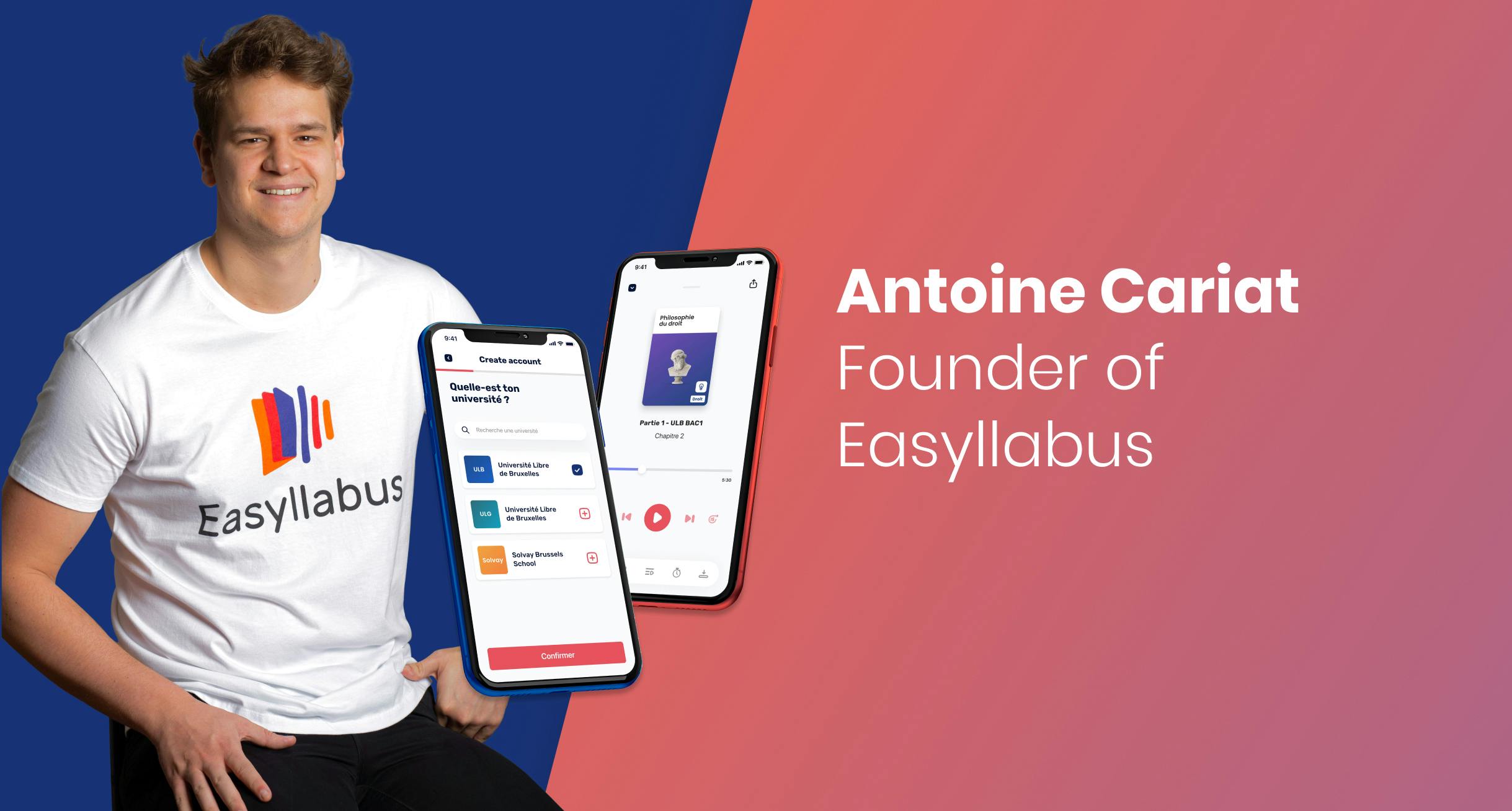 Antoine, thank you for joining us today, can you tell us a bit about your background before Easyllabus?

My name is Antoine Cariat, and I'm 25 years old. In terms of education, I studied foreign trade at EPHEC for three years. Then I did a one-year master's degree at ICHEC in business science. That's my educational background.
I launched Easyllabus while I was still a student, thanks to the ICHEC Start Lab, an incubator at my business school, which allowed me to get started.


💡You can find more details about Antoine's qualifications, employment history, education, skills, and experience on his👉LinkedIn profile👈.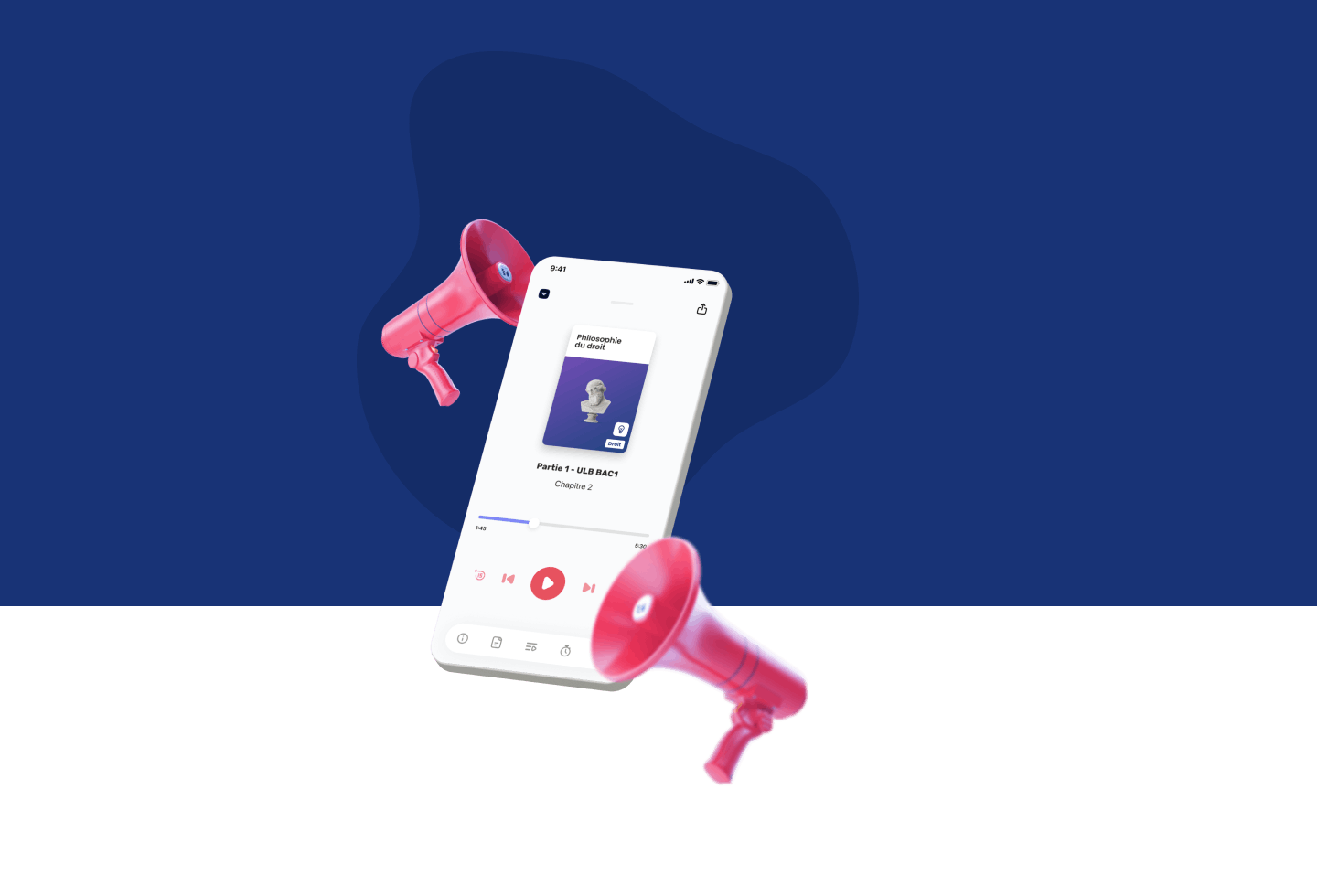 What is Easyllabus?

In a nutshell, Easyllabus provides educational podcasts based on the best course notes. Consisting of summaries or a combination of several.
To put it simply, we started with the observation that we remember much more information by listening than by reading, on average 2 to 3 times more. Additionally, with podcasts, you will be able to listen/study from anywhere and anytime.
The third crucial aspect of Easyllabus is that we focus on summarized lecture notes, synthesis, and thus condensed content, allowing you to learn a huge amount of information in a short amount of time.


How did you come up with the idea of creating Easyllabus?

It's a story I tell everyone, and even though it's very "storytelling", it's the truth! It was on Erasmus in Bologna in 2016, and I had hundreds of pages to study. I thought to myself, if I had all these pages in audio format, I might remember the material faster and in greater quantities. I put it to the test, and it worked. It enabled me to pass my exams.
I figured that other students might be interested in this solution. So I gave it a shot and it caught on very quickly. And that's how we started. 🚀


What gave you the confidence to launch this concept?

In all honesty, when you launch a business project, you aren't confident of anything. You start because it's in you and you love it. So, I had no idea if it would work. But... does it work? I don't know yet. it's still uncertain at the moment, so we'll see.
But of course, we absolutely want it to work because we are driven by this desire to make things happen and because we have this good idea. And after receiving the first positive feedback, we continue to push ourselves, because I believe that's what gives us the confidence to keep going.


How do you find good summaries?

It may seem rudimentary, but we basically go through student Facebook groups. In Belgium, there are several Facebook groups for all faculties, universities, and academic years. So we go through these groups and try to locate the "heads of the class" who publish the strongest summaries with a lot of engagement on their work. We contact these individuals and ask if we may use their resumes to create audio capsules.
After several hundred requests, we have never had a refusal because it's a matter of pride, which is normal. Because it's work they produce that is valued. The next step, to make it very, very, very short... is that we send these raw text products to our production team, consisting of more or less twenty people, who will recite these texts and send the audio clips back to us. After that, we publish them on our application.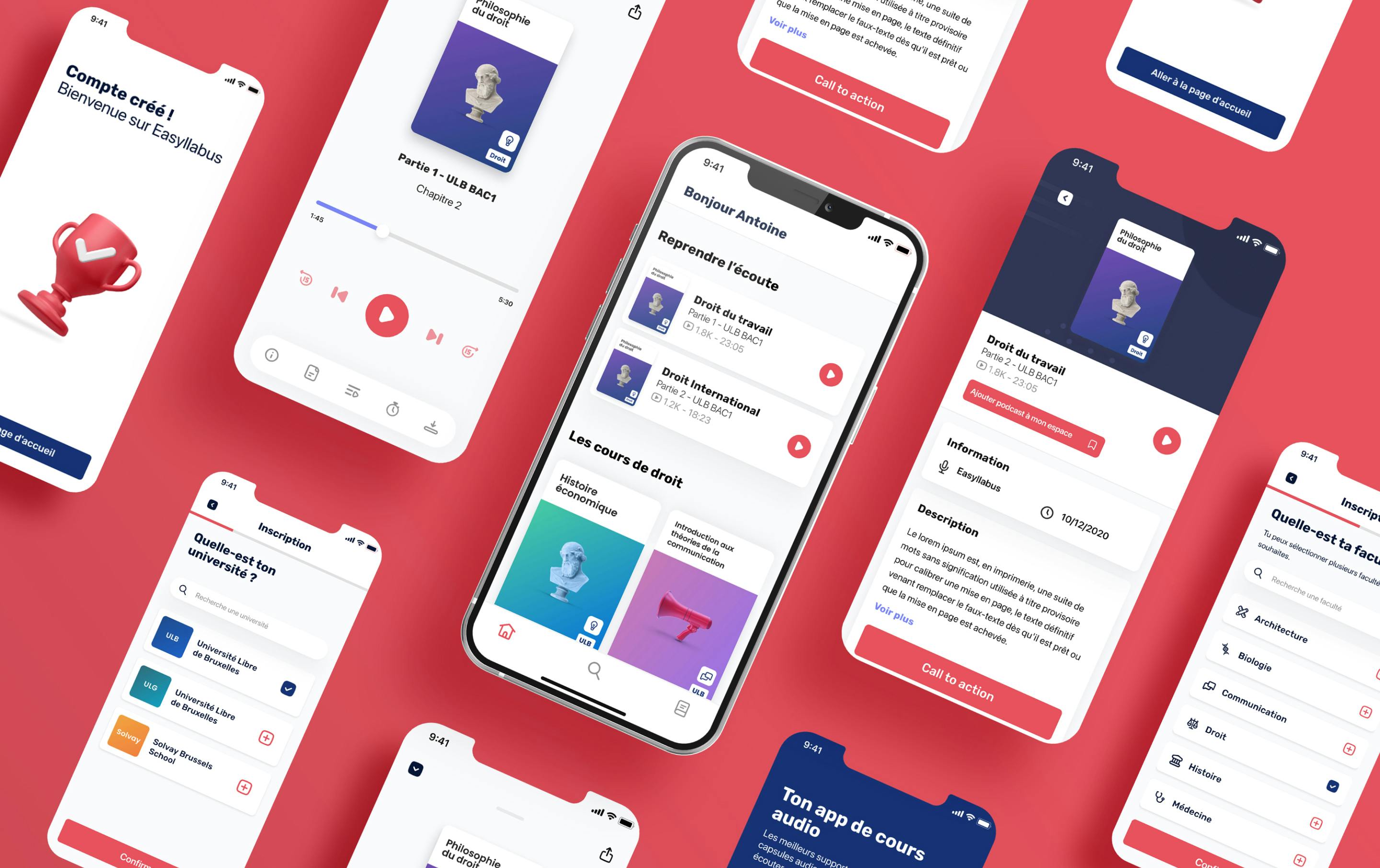 Who is behind Easyllabus?

Me and my partner Julien Romain, who has been helping us for several months, for whom we are very proud to have. Also, my sister, who doesn't work full-time for us, because it's not her main job, but assists us a lot. The Nightborn team is of course also essential to the project's success. After looking around for a while we landed on this incredible team. We are really thrilled to collaborate with them because they are a godsend.

💡 Meet this team! 💪🏻

We also have a few interns from time to time, but the long-term goal is to hire as many people as possible in order to make the project grow exponentially.


In your opinion, what are the most significant challenges to be met in the following months or years?

The biggest challenge for Easyllabus, as far as we can determine at this stage, would be to close our fundraising before the summer or at the start of the next school year.
Then, for more practical goals, we'd like to launch what we call the "native" or "boosts", which would allow any student to upload an educational capsule on any subject, thereby opening up the platform to multiple countries. That's the clear objective. The next step would be the internationalization of our core concept, which is internally producing content and trying to make the knowledge far more accessible than it is now. This is our long-term global vision.

Why and how did you become a partner of Nightborn?
To be fair, it's an old contact I had with Maxime Denuit, Co-Founder and Head of Development at Nightborn. He did the ICHEC when I was in my first year at ICHEC, about six years ago. Maxime had then stopped to start development.
Afterward, when I saw a publication on LinkedIn, I saw his face and thought to myself "well, this is what he has become." I started to get genuinely interested in Nightborn. Visually, I think their work is very beautiful. They seemed to be doing an excellent job, so we contacted each other. Apart from just the visual aspect, we actually matched on many concepts. So yeah, in the beginning, it was all about their good-looking works, which might be a bit silly. But when we met and exchanged ideas, we realized that they were very complementary to everything else as well. We have the same mentality, with a pretty young team with whom we can exchange.


What added value has Nightborn brought to Easyllabus?

Compared to other companies, I believe Nightborn's added value is multilayered: on the one hand, the visual aspect and understanding of the users of the generation we want to target. Everything related to UX/UI is very much put forward at Nightborn. Secondly, the responsiveness! Maybe this is a special treatment that we receive, (because I'm not sure how the following customers will be treated 😉), but it's wonderful. As soon as we have a question, we can ask them. They usually answer within 10 minutes at most. That's essential for us, especially for a very demanding person like me. So I would say that, in addition to the execution, the end result is also incredible. In short, everything is perfect.

💡 What kind of services does Nightborn provide? 👉nightborn.be/services👈


If you can give one piece of advice, which one would it be?

If I had to suggest one thing, Even though the deadlines were pretty much respected, you have to realize that developing an application, or any other development, takes time. The expectations we set in terms of time are often unrealistic. We must strive to assume that these deadlines will not always be met and persuade ourselves that, whatever happens, it will take more time. By the way, this is applicable to all agencies, not only Nightborn. Because time is stretched from the moment we change things. And we, customers, often change our moods, desires, and thoughts.

A final word?
To anyone who might be interested in collaborating with Nightborn: please contact them! They are extremely responsive, and I believe they will be a good fit for your goals. They didn't pay me to say this 😅, but they're amazing, top-notch, and perfect, and you should definitely consider working with them!
👇 The interview (in French) is now available on our brand new Nightborn-Youtube channel as well. It's our first video. 🥳

If this interview sparked your interest, feel free to check out the case study we made of Easyllabus.
👉 Case study: Easyllabus👈 or check out Easyllabus.be.